Callcentric Wholesale provides customers with a Web based set of tools that can be utilized to view traffic, quality, rates, and revenue all in real time 24 hours a day from anywhere in the world.
| | | |
| --- | --- | --- |
| | | |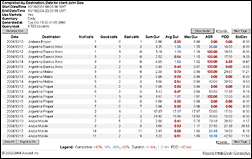 Callcentric Wholesale Reporting System enables customers and suppliers to monitor their own traffic patterns in real time and to track their historical traffic. With the ability to check call completion rates (ASR), and average call lengths (ACD) routed to and from their own networks, the reporting system helps customers improve network planning, increase margins and grow revenues.


CDR Exports provide customers with an easy way to download Call Detail Records for any period of time, for in or outbound calls, and with any specific destination. Many of Callcentric Wholesale's terminators use the CDR data collected by Callcentric Wholesale to forecast budgets.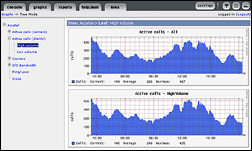 Callcentric Wholesale Graph System The Callcentric Wholesale Graph's allow customers to view graphs of their traffic, channel utilization, and other metrics in real time.


Callcentric Wholesale Per-Line Monitoring Tool gives customers using analog based gateways real time monitoring of each PSTN line. Callcentric Wholesale's systems watch for channels that do not have dial tone, have low Answer Seizure Ratio (ASR), low Average Call Duration (ACD), abnormal Post Dial Delay (PDD), or are providing False Answer Supervision (FAS). Upon detecting abnormal conditions on a specific line; the line is disabled and immediate notification is sent to the Callcentric Wholesale customer, as well as Callcentric Wholesale's Network Operations Center (NOC).


Callcentric Wholesale Help Desk is an easy and fast way for Callcentric Wholesale customers to identify and report issues affecting their traffic. Using this tool, customers can send online requests to Callcentric Wholesale's Network Operations Center and ensure that the proper information is fed directly into Callcentric Wholesale's support systems.