Callcentric.com - a retail internet phone service of Callcentric Wholesale, allows individuals anywhere in the world to receive the same high quality calling experience as Callcentric Wholesale's carrier customers; and at significant savings when compared to traditional long distance and calling card rates.

Customers of Callcentric use Voice over Internet Protocol (VoIP) software or hardware devices based on Session Initiation Protocol (SIP) to place calls anywhere in the world.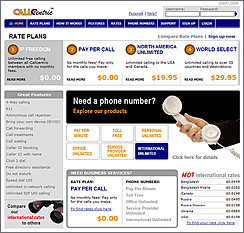 Some of the benefits of Callcentric are:
Free sign-up and no monthly fees for SIP to SIP calls
Calls to regular phones on a call by call basis with low rates, or monthly plans with even greater savings
Use the service anywhere with an Internet connection
Online calling card
Get a real phone number in the USA or Canada assigned to your SIP software or hardware
Personalized Voice Mailbox

To learn more about Callcentric, please visit its website - www.callcentric.com.